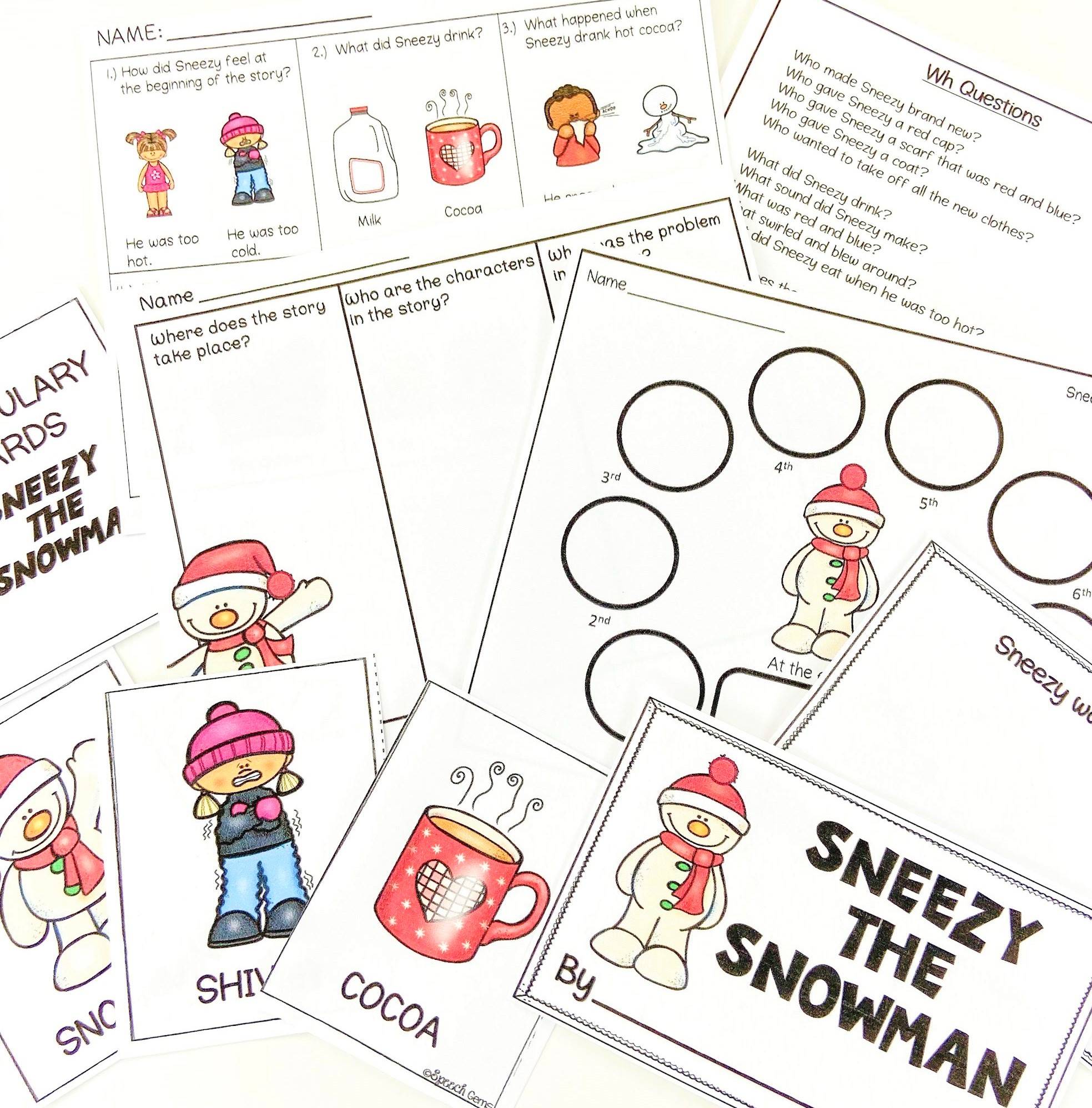 Hi Everyone,
I love being able to use literature based activities in Speech Therapy. I started using literature books because I was looking for a way to make therapy more relevant to my students' class work. It ended up making it so easy to integrate therapy into the classroom.
I ended up creating book companions for some of my favorite and most used story books. I follow a very predictable pattern with my lessons. I have found this leads to more carryover for my students.
Depending on the book I choose and the groups goals I use a book for 2-4 weeks. A frequent question I get is how do I use the same book for so long. This is the typical pattern I follow.
Present story vocabulary

I start by pulling out the vocabulary that I am going to target with each group. My book companions have vocabulary cards. I create a ring of vocabulary words for each group. I use these all year to progress monitor vocabulary growth.

Read the story

Every session I read the story. I like to use books that take 5-7 minutes to read. During this time I ask "wh" questions or focus on skill activities.

Story comprehension

After reading the story I use my book companion comprehension questions and story element sheets.

Skill activities during repeat readings

During repeated readings I focus on individual skills that my students need. If a student is working on categories I might ask them to name all the animals in the story. When targeting past tense verbs I will ask them questions that require a past tense verb in the answer. Articulation students questions focus on their sounds. This is a perfect time for individualized questions.

Story retell activities

After we have read the story a few times we start to work on retelling the story. I like to use small toys or puppets when we start this. My book companions have a sheet to help with scaffolding this activity and puppets the students can use.

Alternate story

I like to end the unit with an alternate story. This is a great way to wrap of the story.
Every therapist and teacher seems to have favorite books. I think when you love a book it shines through to the students. These are my favorites:
Kindergartners
First Graders, Second Graders and my special education classrooms
I have found that some years I find a new book I love, but these are my go to favorites.
I hope if you are using literature books in therapy you and your students love it as much as I do.